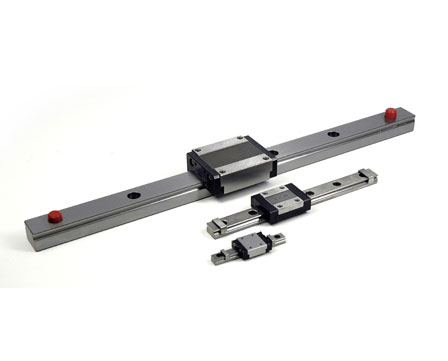 Recirculating Slide Guides
Recirculating slide guides are yet another linear motion option for design applications requiring longer travels and accuracy. Our recirculating guides consist of a carriage and a guide rail with grooved paths that are machined and precision ground. The carriage contains two recirculating tracks that provide smooth circulation of the balls throughout the recirculating pattern and are considered to be some of the best linear motion guides in the industry. These low friction, compact and light weight recirculating guides are capable of carrying loads in excess of 700 kg., and provide travels up to 880mm. Our slide guides are manufactured from 440 stainless steel to provide corrosion resistance in your design. For any special design considerations please contact us directly to discuss your linear motion needs. Rail can be custom cut for your applications needs and multiple carriages can be installed or purchase separately.
Other industry terms include slide guides, recirculating slide guides, recirculating slides, precision slide ways and more generally, linear bearings, linear slides, linear motion slides and motion slides.

Smooth motion and high accuracy
Compact and lightweight
High load capacity
440 Series Stainless