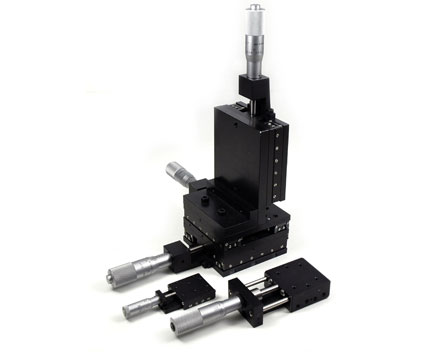 Multi Axis Positioning Stages
Tusk Direct, Inc. offers a wide range of micrometer driven positioning stages. These linear positioning stages are available with linear ball or linear crossed roller internals with travels ranging from .25" to 2.0". Available in X, XY and XYZ configurations our linear motion positioners handle loads ranging from 4 lbs. to 160 lbs. With 12 available profiles both the linear ball and crossed roller positioning stage versions are offered with inch or metric micrometers and mounting holes. Locking micrometers are offered on most models and all our positioning stages can be supplied with our Posi-Lock friction locking mechanism to hold position on the work surface. Side drive micrometers (SD type micrometers) are an option for applications where mounting space is limited. Positioning accuracies range from 0.0005" per inch of travel straight line accuracy on our ball slide positioning stages to 0.0001" per inch of travel straight line accuracy on our crossed roller positioning stages.
For any special design considerations please contact us directly to discuss your linear motion needs. Our micrometer positioners are manufactured in the United States and can be easily modified for your specific needs.
Additional industry terms include micrometer stages, high precision stages, positioning stages, linear positioners, XY stages, micrometer slides, roller tables, linear translation stages, precision micrometer stages, linear positioning stages and more generally as linear slides, linear actuators or motion slides.

Accurate micrometer positioning. Digital micrometers also available
Many profiles and travels available for X, XY and XYZ multi axis positioning
Lightweight
Can be easily modified to meet your specific requirements
Ready for mounting right out of the box