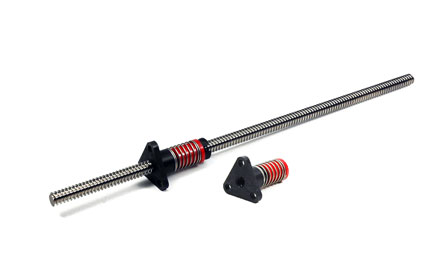 Anti Backlash Lead Screws
Tusk Directs TLS Series anti-backlash lead screw assembly offers an effective solution for linear motion applications requiring precise positional accuracy, repeatability and durability. The standard TLS unit utilizes a patented self-lubricating polyacetal 2 piece nut radially preloaded on a 303 stainless steel lead screw. The TLS anti-backlash lead screw assembly, through its unique transfer of loads, offers exceptional torque consistency and repeatability when traversing in either direction. The inherent dampening qualities of the TLS lead screw design make it ideally suited for vertical applications requiring noise or vibration control. For any special design considerations please contact us directly to discuss your linear motion needs.
Other industry terms include: linear lead screws, lead screw assemblies, or simply lead screws.