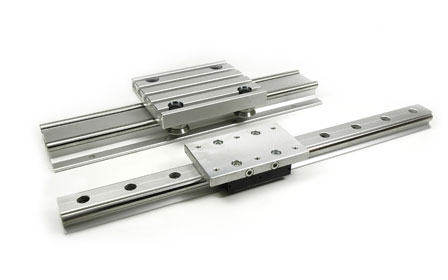 The Econo Rail Linear Bearing System has been designed to provide an economical guide system for a wide variety of linear motion applications. Econo Rail Linear Bearing Systems has been designed to provide an economical guide system for a wide variety of applications, materials handling equipment, pc board transfer lines adhesive dispensing equipment, medical diagnostic equipment, CNC wood routers, automation equipment, and robotics, just to name a few. Providing precision and economy the patented design of the Econo Rail System linear motion system provides precise motion and allows the guide system to be fabricated economically. The heart of the linear bearing consists of a single piece bearing core which is ground all over and two recirculating ball bearing circuits with 3.5 mm diameter steel balls. The bearing elements are mounted on a specially machined plate to provide precise alignment. The bearing is preloaded to eliminate play and provide smooth and accurate motion along the track. The double rail guide consists of two parallel, hardened and ground 12 mm diameter steel shafts, accuracy grade h6, hardness RC 62. These rails are secured in extruded aluminum channels 25 mm high. Parallelism and accurate center distances are achieved by the use of 12mm diameter h6 hardened and ground spacers inserted into the extrusion at 50 mm centers. The hardened spacers, hardness RC 62, are drilled to 6.5 mm diameter to accommodate mounting screws. The carriages are available in many profile sizes and rails are available in lengths up to 3 meters.
Other industry terms include: Linear motion slides, linear slides, motion slides, motion slides, guide rail sets, precision linear motion, and hardened shafting.

Please contact us to discuss your application.