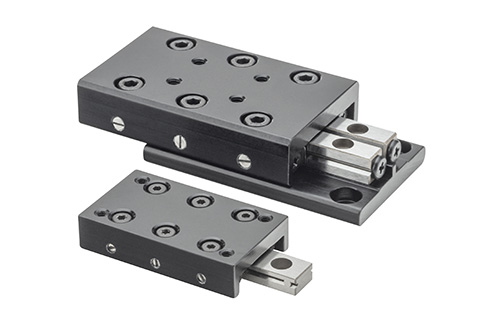 Welcome to TUSK DIRECT, INC. We specialize in supplying you with the highest quality linear motion components, backed by personalized service. Our team of experienced TUSK engineers works closely with you, our customer. We understand your need for reliable products with superior performance. That's why all TUSK products are chosen to meet our rigorous standards of specifications and come to you with our guarantee for satisfaction.
We want TUSK to be the name you think of when you need linear motion components. Our broad range of products includes ball and crossed roller slides and tables, and component accessories. TUSK now introduces our newest family, High Capacity Dovetail Slides for gauging, fixturing and locating.
TUSK specializes in high quality miniature slides. BX1-1, the smallest in its series, measures only 0.75" and moves a 1.5 lb load. And we offer a full line of miniatures including micrometer, crossed roller slide, and aluminum table.
At TUSK, we value customer relationships and we welcome your calls. Our trained technical staff will be available Monday thru Friday, from 9:00 a.m. to 5:00 p.m., EST. Call us for assistance or to offer us your suggestions. Perhaps you'll call just to introduce yourself. We welcome hearing from you, and want to know how we can best serve you.
Call TOLL FREE:

800.447.2042
In CT: 203.790.4611
FAX: 203.748.5147
Sales/Technical: Tusk@TuskDirect.com
REMEMBER TUSK OFFERS YOU:
Guaranteed Product Performance
The TUSK product line includes only the highest quality linear motion components.
Before selection, all product candidates are thoroughly tested to meet high performance accuracies.
Next Day Delivery
No production downtime for you! In a rush? TUSK stocks for next day delivery. Call by noon and you will have TUSK components in your hands the very next day.
Service Beyond Delivery
TUSK engineers and a trained technical staff are available to support you, Monday thru Friday, from 9:00 a.m. to 5:00 p.m., EST. We will answer your questions and help you select the best component for your requirement.
Guaranteed Satisfaction
We stand behind our products and our service to our customers.
All TUSK components are backed by a 30 day unconditional return guarantee and a 90 day warranty. If, for any reason, you are not satisfied with a TUSK product, please let us know within 30 days after you receive your order. We will replace your order or provide a full and immediate refund.
Easy Ordering
Use our TOLL FREE line: 1.800.447.2042, in CT: 203.790.4611, FAX: 203.748.5147, or E-Mail us at Tusk@TuskDirect.com. Call Mon. thru Fri., from 9:00 a.m. to 5:00 p.m. EST. Our trained technical staff will assist you and help you place your order.